Universally compatible

granular & liquid


tracking system
Built For The Commercial Snow And Ice Industry.
Compatible With Most Granular And Liquid Systems On The Market.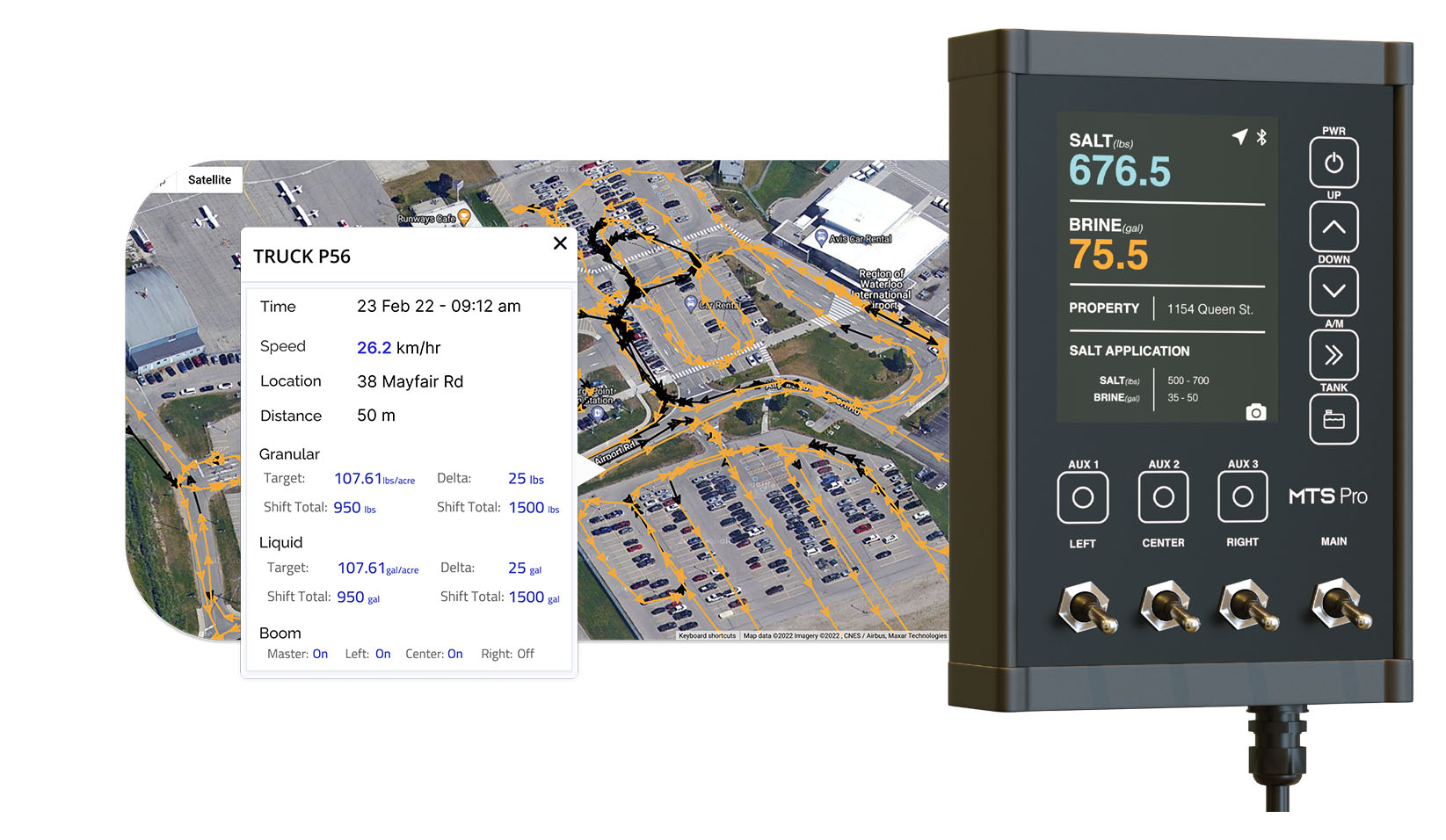 Use Less Salt This Season
No More Over Application!
No More Over Application!
The MTS pro is a universally compatible salt tracking system that comes with an in-cab display, necessary wiring harnesses and a rugged shaft sensor that allows you to track granular material on most commercial spreaders. Simply put, it is an odometer for your salt spreader.

The MTS Pro displays salt usage on a large color screen, GPS tags and uploads the data to a web portal for real-time reporting and analysis.

With real-time geofencing and an interactive web portal, the system is also able to allocate salt usage to different properties based on GPS location and property boundaries. The display also shows recommended application rates for specific properties as set via the web portal. This allows for your drivers to not only know what they are putting down but also know the recommended amounts that are pre-calculated based on site square footage and event type.

The advanced version also supports integrating with flow meters to track liquid alongside granular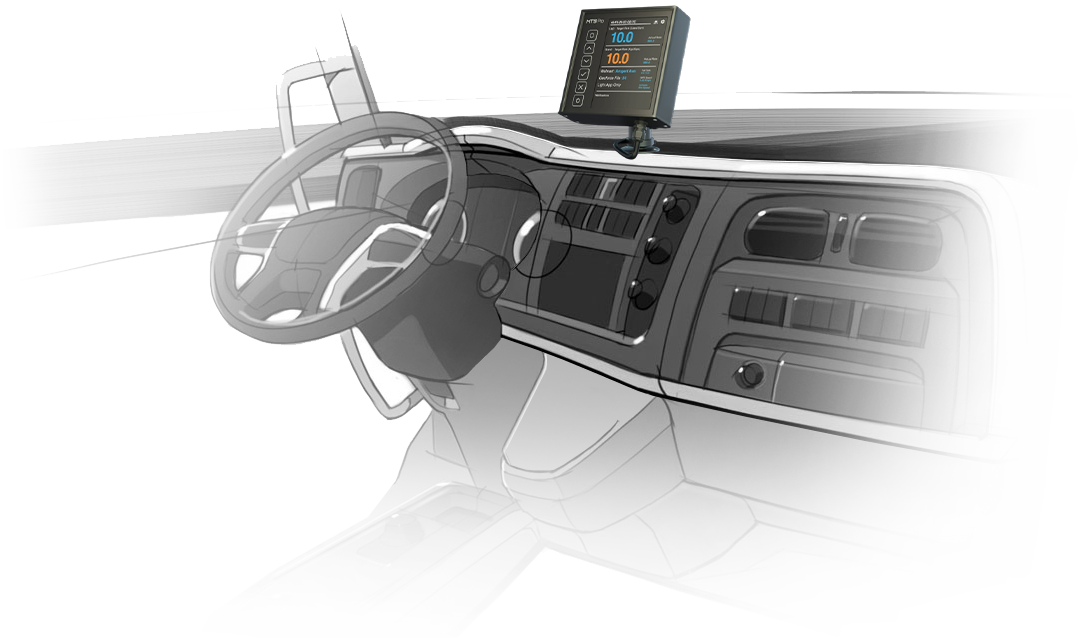 WILL THIS WORK WITH YOUR SPREADER?
Short answer is yes. The MTS pro is compatible with most gas, electric and hydraulic auger and conveyor-based units. All necessary wiring and sensors are included in the kit, no special data ports or outputs are required.

Typical installation takes roughly 2 hours and can be completed in house with basic tools.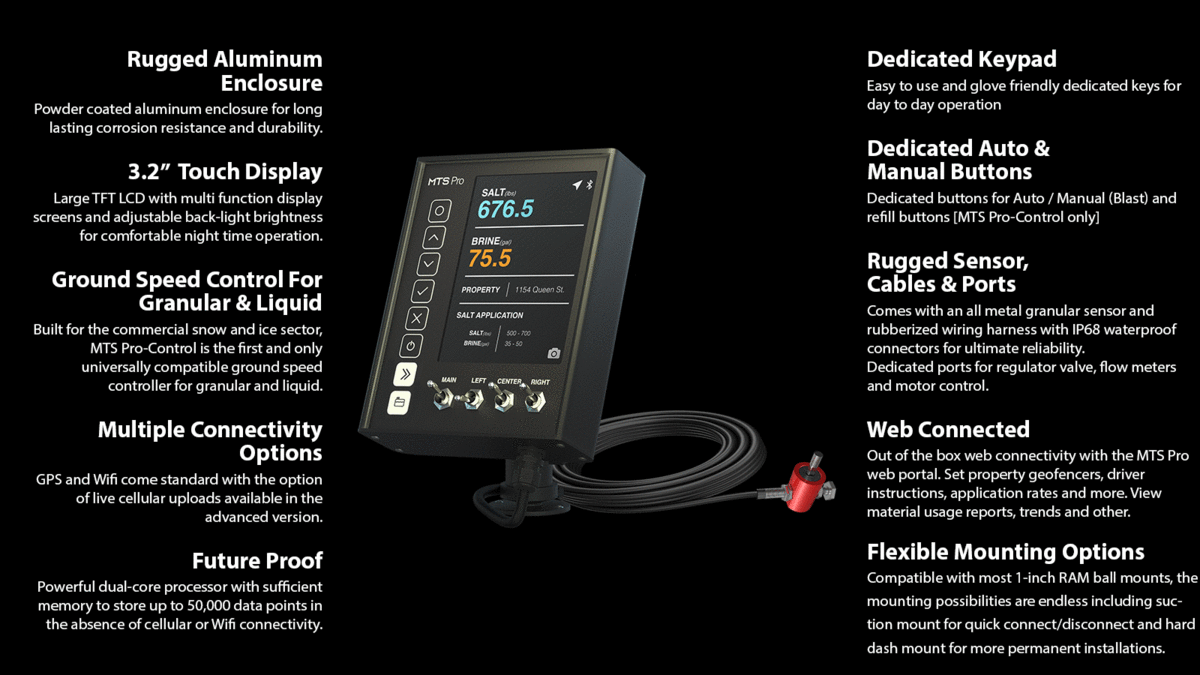 Track and analyze your salt usage with the
MTS Pro

.
Unlike other systems in the market that are developed for the agriculture industry, the MTS Pro is built for commercial snow and ice industry.

From advanced tracking options to a custom, operator friendly UI and detailed web reporting that has you covered in case of a slip and fall claim, the MTS Pro is designed for snow from the ground up.
GPS Portal
All spreading activity is tracked via the on-board GPS. Viewable on a map, export or as an API push.
Site Notes
On screen site specific notes and target rates synced from the portal.
Cellular
GPS and material application activity sent to portal in real-time.
Quick Install
Available in a quick 30 - minute install configuration.
Overage Alerts
Receive over-application alerts on the display as well as easy to read reports on the web portal. Configurable by site, truck or zone.
Winter only Plans
Winter only plans available for assets that do not need tracking during the summer months.
Works with most Spreaders
Compatible with most spreader types including large and small auger and conveyor spreaders.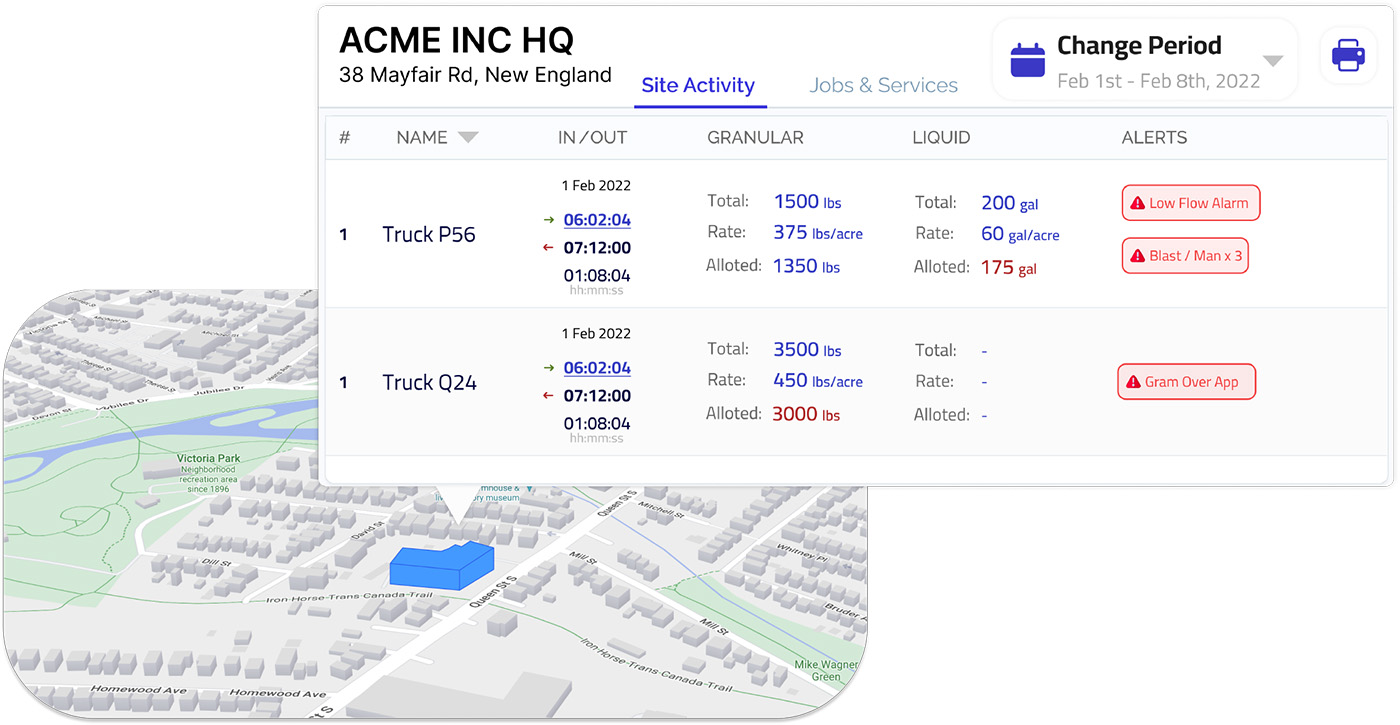 WHY IS TRACKING SALT IMPORTANT?
Salt costs money (and has a huge impact on the environment as well as building infrastructure). Just like the odometer on your vehicle, the MTS pro accurately tracks your salt usage on a property to property and event to event basis. When the drivers are able to see what they're putting down they automatically become more aware and conscious of their salting practices. Most of our customers see a 30% reduction in salt just by tracking alone.

Moreover, the online reporting helps identify operators that are generally heavy on salt or require additional training in as early as after a couple of events enabling quicker intervention and correction.